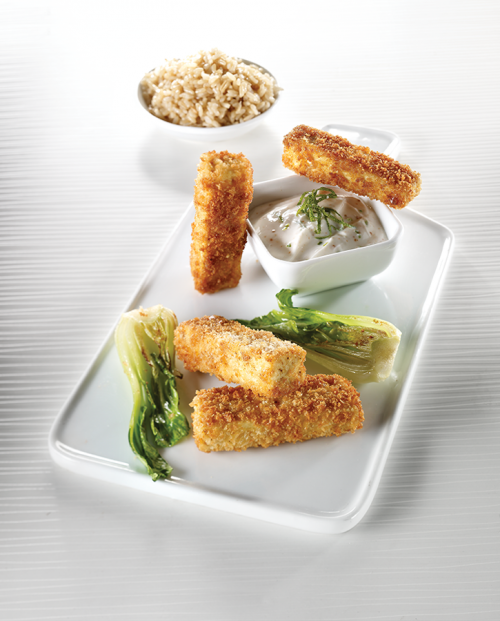 4 servings • PREPARATION: 25 minutes • COOKING TIME: 20 minutes
Ingredients
½ Cup (60 ml) whole wheat flour
¼ tsp onion powder
2 tsp chili powder
2 eggs
1 cup (250 ml) Panko Japanese-style breadcrumbs
1 package (1 lb/454 g) extra-firm tofu, cut in 16 sticks
2 tbsp olive oil
For the sauce
½ cup (125 ml) plain yogurt
1 tsp honey
Zest and juice of 1 lime
Pinch hot pepper paste (sambal oelek type) or hot pepper flakes
Method
In a small bowl, combine all sauce ingredients. Refrigerate.
In a shallow bowl, blend flour, onion powder and chili powder.
In another shallow bowl, beat eggs. In a third shallow bowl, place breadcrumbs.
Blot tofu sticks with paper towel. Coat sticks in flour mixture, then dip in egg. Remove sticks and let excess drip off, then coat in breadcrumbs.
In a large nonstick skillet, heat 1 tbsp oil over medium heat and brown tofu sticks on each side for 2 minutes or until golden. Repeat with remaining tofu sticks and oil.
Serve tofu sticks with sauce.
Serve with brown rice and sautéed miniature bok choy, broccoli or green beans.
Variation
You can replace sauce with 1 tbsp Cilantro Gremolata mixed with 1/2 cup (125 ml) plain yogurt.