Over 650

 000

copies

sold!

Enter the offbeat and hilarious world of Jon Le Bon
JON LE BON is an exceptionally gifted agent. Since joining the Agency, he has shattered training test records and saved the world dozens of times. He may be a living legend, but deep down he's just a big kid. He's always in a good mood, even when things seem hopeless, and he sees the fun in life (and his job). He is patient and friendly with everyone, even his arch rivals. He's also a movie, TV and video game buff. All of these qualities make him somewhat unpredictable, even a bit of a worry for the Agency. You can never tell what direction his missions will take him. But one thing is sure: he succeeds every time.
$12.95, 104 pages +
Now available in bookstores or online at groupemodus.com
Volume 1 – The Brain of the apocalypse
Volume 2 – Formula V
Volume 3 – Operation Shorthand
Volume 4 – The Prophecy of 4
Volume 5 – Time Travel Fridge
Volume 6 – A Sheep in the Head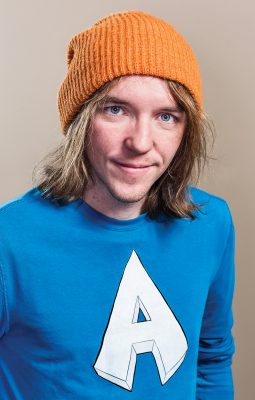 ALEX A.
Cartoonist
ALEX A. is both author and illustrator of Super Agent Jon Le Bon. He discovered his love for drawing and creating cartoon characters at the early age of eight and has been at it ever since. His limitless imagination allows him to create new plots and twists and even completely new universes for his wacky and offbeat characters. He'll tell you that his main source of inspiration is "all that exists but especially all that doesn't exist."
Alex A. lives in Montreal with his dog Wolfy and always shows up for book signings in his distinctive wool hat and colorful plaid pants, ready to entertain his readers.
PUBLISHED BY:
Adventure Press, Montreal, Quebec, Canada • adventurepress.ca
Media Relations: Pascale Ruas • [email protected] • 514 272-0433 ext. 104
facebook.com/agentjean
facebook.com/superagentjonlebon