Know what to eat – Gut Health
21 days to improve your overall health and wellness from the inside out
Do you want to improve your health and prevent certain diseases? What if the solution was found in your gut?
Did you know that an imbalance in gut microbiota (formerly referred to as intestinal flora) can lead to inflammatory and cardiovascular diseases, allergies, obesity, diabetes, cancer and depression? Did you know that your diet could help change the situation?
This guide is designed to help you:
Understand, in the light of recent scientific advances, how your gut health can influence your general state of health and vice versa
Gradually adapt your diet to encourage the proliferation of good bacteria in your gut
Get clear recommendations to help you make a smooth transition to a semi-vegetarian diet
Easily plan your meals and snacks with flexible daily menus
Discover delicious recipes that are quick and easy to prepare: Kefir Pancakes, Oat Banana Cookies, Beet and Legume Salad, Crispy Tofu Sticks, Marinated Tempeh Sandwiches, Sweet Potato Rösti with Smoked Salmon, Chicken and Black Bean Burritos, Root Vegetable Chips, Chocolate Bites, Yogurt Strawberry Basil Cake… and take a bite out of life!
Make your diet your partner in health!
ISBN: 978-1-77286-063-4
Number of pages: 216
Crispy tofu sticks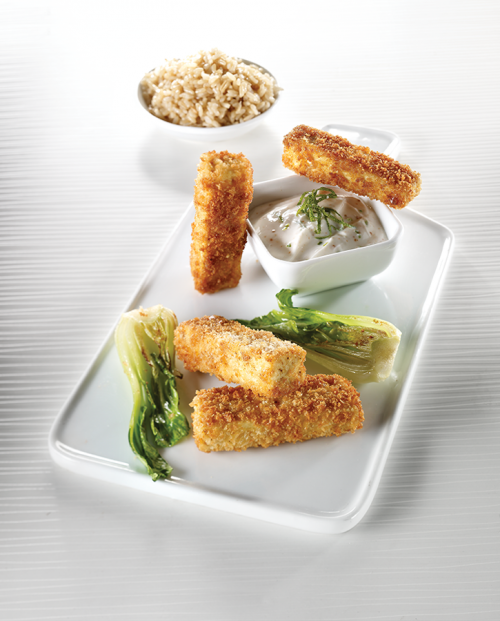 4 servings • PREPARATION: 25 minutes • COOKING TIME: 20 minutes
Ingredients
½ Cup (60 ml) whole wheat flour
¼ tsp onion powder
2 tsp chili powder
2 eggs
1 cup (250 ml) Panko Japanese-style breadcrumbs
1 package (1 lb/454 g) extra-firm tofu, cut in 16 sticks
2 tbsp olive oil
For the sauce
½ cup (125 ml) plain yogurt
1 tsp honey
Zest and juice of 1 lime
Pinch hot pepper paste (sambal oelek type) or hot pepper flakes
Method
In a small bowl, combine all sauce ingredients. Refrigerate.
In a shallow bowl, blend flour, onion powder and chili powder.
In another shallow bowl, beat eggs. In a third shallow bowl, place breadcrumbs.
Blot tofu sticks with paper towel. Coat sticks in flour mixture, then dip in egg. Remove sticks and let excess drip off, then coat in breadcrumbs.
In a large nonstick skillet, heat 1 tbsp oil over medium heat and brown tofu sticks on each side for 2 minutes or until golden. Repeat with remaining tofu sticks and oil.
Serve tofu sticks with sauce.
Serve with brown rice and sautéed miniature bok choy, broccoli or green beans.
Variation
You can replace sauce with 1 tbsp Cilantro Gremolata mixed with 1/2 cup (125 ml) plain yogurt.
Related Products